February 8, 2016 by André
Wolfmother have today unveiled the lyric video for 'Pretty Peggy'. Debuted exclusively via Shazam, the video was directed by Willie Witte, who has previously animated a video for the Chicken Lips Malfunction Remix of 'Love Train'.
As for the song, Shazam noted that 'Pretty Peggy' "showcases the softer side of the band", which somewhat marks a departure from the band's typical hard rock approach.
February 8, 2016 by André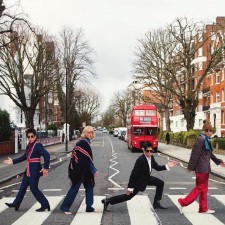 According to Mr. Andrew Stockdale, Wolfmother will have a new song called 'Remove Your Mask' included on the soundtrack for the upcoming film Zoolander No. 2. The film, which was directed by lead star Ben Stiller and opens in cinemas worldwide at the end of this week (February 12th), is the long-awaited sequel to 2001's Zoolander.
Posting on his various social media accounts, Stockdale said the following about the news: "Super psyched to have a new song "Remove Your Mask" in Zoolander 2!!! The sequel to possibly the greatest movie of all time!" 'Remove Your Mask' is not included on the standard editions of Victorious, but in a comment the Wolfmother frontman confirmed that it would be included on deluxe editions of the album (yet to be announced).
Furthermore, in an interview with Chicago Innerview published last year, Stockdale named 'Remove Your Mask' as one of his favourite tracks from the upcoming record, explaining that the song is about "pretentious people [who put] all their energy is put into maintaining a façade".
February 5, 2016 by André
The title track from Wolfmother's upcoming album, 'Victorious' has charted in the United States. The song reached number 40 on the Billboard Mainstream Rock Songs chart for the week of 13th February 2016.
'Victorious' is the first Wolfmother song to register on the Mainstream Rock chart in over six years, since 'New Moon Rising' reached number 33 in 2009. Previous entries include 'Woman' (#7) and 'Joker & the Thief' (#27).
January 24, 2016 by André
Personal note: sorry this is so late, but I recently moved house and don't have proper internet yet!
As teased on the mailing list, Wolfmother recently announced a bunch of European shows to be added to their Gypsy Caravan Tour in promotion of upcoming album Victorious.
The shows will follow the previously announced North American tour dates, beginning in Dublin, Ireland on April 8th and concluding in Bilbao, Spain on May 14th. Full dates are below.
April 8th – Olympia Theatre, Dublin (Ireland)
April 9th – Academy, Manchester (England)
April 10th – O2 Academy, Newcastle (England)
April 12th – O2 Academy, Glasgow (Scotland)
April 13th – O2 Academy, Leeds (England)
April 14th – Rock City, Nottingham (England)
April 16th – O2 Academy, Birmingham (England)
April 17th – O2 Academy, Bristol (England)
April 18th – O2 Guildhall, Southampton (England)
April 20th – O2 Shepherd's Bush Empire, London (England)
April 22nd – Palladium, Cologne (Germany)
April 23rd – Schlachtof, Weisbaden (Germany)
April 25th – Le Trianon, Paris (France)
April 26th – Paradiso, Amsterdam (Netherlands)
April 27th – AB, Brussels (Belgium)
April 29th – Oosterpoort, Gronigen (Netherlands)
April 30th – 013, Tilburg (Netherlands)
May 1st – Gross Freiheit, Hamburg (Germany)
May 2nd – Columbiahalle, Berlin (Germany)
May 4th – Vega, Copenhagen (Denmark)
May 5th – Rockefeller, Oslo (Norway)
May 6th – Gruna Lund, Stocholm (Sweden)
May 8th – Alcatraz, Milan (Italy)
May 9th – Volkshaus, Zurich (Switzerland)
May 10th – Kesselhaus, Munich (Germany)
May 13th – Apolo 1, Barcelona (Spain)
May 14th – Kristonfest, Bilbao (Spain)
January 15, 2016 by André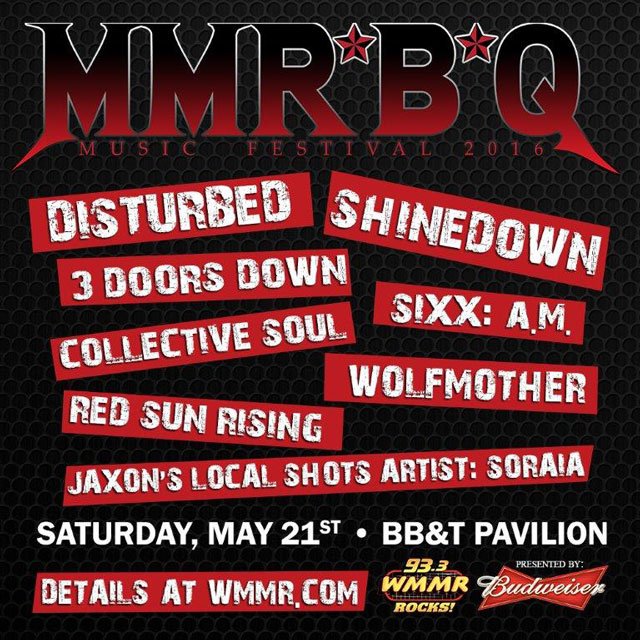 Wolfmother have announced that they are due to play at the MMRBQ festival on 21st May.
The event, which is hosted by Philadelphia, Pennsylvania-based rock radio station WMMR at the BB&T Pavilion in Camden, New Jersey, will this year also feature bands such as Disturbed, Shinedown, 3 Doors Down and Sixx:A.M.
The show takes place a month and a half after the end of the current batch of North American tour dates, suggesting the band may extend their stay in the US and Canada.
MMRBQ is the third festival appearance announced for the band, joining shows at Rock on the Range in Columbus, Ohio and Rock'n Derby in Schaghticoke, New York in the same week.
If you are interested in going, tickets are available here.