The music video for single "White Feather" has popped up on the net. Forum member JasonA spotted the video at this link. The video depicts the band simply performing the song, although has some nice, sophisticated effects. Directed by Snakes & Ladders (Pete Moore & Patrick de Teliga). Check it out!
The 2009 edition of the Triple J Hottest 100 chart has been published, with Wolfmother appearing only once (!), at position 75 with Cosmic Egg lead single "New Moon Rising". This mediocre result for the band is in huge contrast to their rankings in the 2005 edition, where the band broke records by having six of their songs included in the 100, including "Mind's Eye" at #6, "Joker & the Thief" at #9 and "Apple Tree" at #16. The following year, the Wolfies featured twice, with "Love Train" and the MSTRKRFT remix of "Woman" at positions 80 and 55, respectively; and in 2007 the soundtrack-only "Pleased to Meet You" was rated the 83rd best song of the year.
The winner of this year's Hottest 100 was the song "Little Lion Man" by English indie-folk rock band Mumford & Sons, which was also named the "Hottest Record in the World" by BBC Radio 1 DJ Zane Lowe in July. Both Muse and Florence the Machine were featured in this year's 100 more than any other artist — a total of four entries each, with "Uprising" and "Dog Days Are Over", respectively, occupying the ninth and tenth spots. Also ever-present were comedy duo Flight of the Conchords, neo-psych Englishmen Kasabian and Australian post-punk band The Temper Trap, all with 3 entries each. In total, Australian acts occupied 36 of the 100 spots, while the UK and the US took 52 of the remaining 64 positions. Also to be noted is that "Little Lion Man" had the largest winning margin in Hottest 100 history.
ADDITIONAL NEWS! A video of Wolfmother performing Cosmic Egg opener "California Queen" at the Coronet Theatre in London, England on 21 October 2009 has been uploaded by the band's official YouTube profile. A PRO-SHOT, awesome HD quality clip showing the new Wolfmother members at their very best has been met with anticipation and rumours, the latter relating to the possibility of a DVD release of live footage sometime in the (hopefully near, but potentially not) future. As an attendee of aforementioned concert, I vaguely recall the phrase "recording for DVD" coming from Andrew Stockdale's mouth, although I may have misheard. Two main options are that: (1) the Coronet gig will be released as a standalone concert DVD, or (2) the Coronet footage will be included on a DVD documenting the entire "New Moon Rising World Tour". Anyway, it's awesome! So check it out.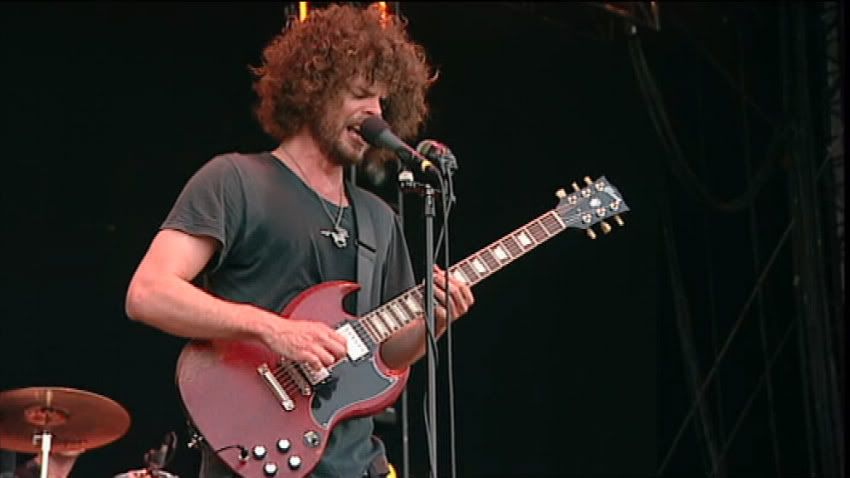 Yes! That's right! Wolfmother have been confirmed for this year's Download Festival held at Donington Park in England, due to take place Friday 11 to Sunday 13 June 2010. As confirmed by the festival's official site, Wolfmother are one of nine (currently) confirmed acts, which also include high-profile Australians AC/DC, heavy metal veterans Motorhead and Megadeth, alternative rock band Stone Temple Pilots and newly-formed supergroup Them Crooked Vultures, a personal favourite of a couple of forum members (including myself!).
No word yet on what day Wolfmother are due to perform, but with such a high-profile lineup it's unlikely they'll be headlining, so expect a maximum of 6-8 songs, give or take. Tickets go on sale Friday 29 January 2010, i.e. this Friday, the most expensive of which (for a single person) is the weekend + 5-day camping ticket, which is a pretty decent £180! Give us a shout on the forums if you plan on going, and commence excitement!
Wolfmother have performed at the festival, one of the UK's biggest for rock music, once before, in 2007, supporting headliners Velvet Revolver and, ultimately, My Chemical Romance on the main stage on the Friday (8 June 2007).
Hey Wolfies! Just a quick post to let you know that our beloved Wolfmother have made it to microblogging site Twitter! Head over to twitter.com/wolfmother and follow the page to keep up with news and updates directly from the band. No doubt many of you have followed Andrew Stockdale at twitter.com/positron76, but it looks as if this is an attempt to distinguish his personal profile from that of the band. So follow the band, follow Andrew, AND follow us! Check out twitter.com/wolfmothernet for our very own Twitter page, where you would've found a competition (which ended last night), had you followed! :P
Tweet away!
Thanks for the amusing entries to the recent caption competition! It was a hard decision, but we have finally decided that the winners are:
Tickets for Thursday's London gig: Chestman
Merchandise pack: GuitarGeek469
I'll be in touch with each of you shortly to arrange delivery of your winnings! Congrats!
Before I show all of the entries alongside the pics (winners highlighted), I also wanted to announce another great competition! ANOTHER pair of tickets for Thursday's London gig! All you need to do is look out on Twitter for the competition tweet, coming up within the next hour.
Click here to see all of the pics again alongside the entries: [Read more]
According to a recent news post by MTV.com, information regarding the soundtrack to Tim Burton's adaptation of Alice In Wonderland has surfaced.
The soundtrack is called "Almost Alice" and features artists "re-imagining songs from the Disney classic".
Among bands such as Metro Station, Franz Ferdinand, All Time Low and The All-American Rejects, Wolfmother also provides a new song entitled "Fell Down A Hole".
The entire tracklisting:
Avril Lavigne – "Alice (Underground)"
The All-American Rejects – "The Poison"
Owl City – "The Technicolor Phase"
Shinedown – "Her Name Is Alice"
All Time Low – "Painting Flowers"
Metro Station – "Where's My Angel"
Tokio Hotel and Kerli – "Strange"
3OH!3 featuring Neon Hitch – "Follow Me Down"
Robert Smith – "Very Good Advice"
Mark Hoppus with Pete Wentz – "In Transit"
Plain White T's – "Welcome to Mystery"
Kerli – "Tea Party"
Franz Ferdinand – "The Lobster Quadrille"
Motion City Soundtrack – "Running Out of Time"
Wolfmother – "Fell Down a Hole"
Grace Potter and the Nocturnals – "White Rabbit"
Almost Alice is set to be released on March 2nd, three days before the film hits cinemas. So mark it down on your calendars because it is a very important date!
Hello, lovely readers… it's more than definitely time for a Wolfmother.net competition! We have two sets of prizes for you to choose from today, and they are:
A pair of tickets for the January 21, 2010 gig at the Brixton Academy, London, England (courtesy of myself and Jimmi); or
If you would like to win either of these prizes, please take part in our caption competition! Below are three images, for which we would like you to come up with some amusing, witty, fun captions! Choose 2 of the 3 images, write captions for them, and post them below in a comment with details of which prize you would like to play for.
If you're playing for the tickets, we will arrange for them to be posted to you – or if you are super-cool, you could meet us all before the gig and pick them up directly.
We will choose two winners, one for each prize.
The competition will close at 23:59 Friday January 15, so get your entries in quick! Entries will be judged quickly after the closing date by the moderating team and published swiftly after.
Image 1
Image 2
Image 3
Good luck!

Rules: [Read more]