The music video for single "White Feather" has popped up on the net. Forum member JasonA spotted the video at this link. The video depicts the band simply performing the song, although has some nice, sophisticated effects. Directed by Snakes & Ladders (Pete Moore & Patrick de Teliga). Check it out!
The 2009 edition of the Triple J Hottest 100 chart has been published, with Wolfmother appearing only once (!), at position 75 with Cosmic Egg lead single "New Moon Rising". This mediocre result for the band is in huge contrast to their rankings in the 2005 edition, where the band broke records by having six of their songs included in the 100, including "Mind's Eye" at #6, "Joker & the Thief" at #9 and "Apple Tree" at #16. The following year, the Wolfies featured twice, with "Love Train" and the MSTRKRFT remix of "Woman" at positions 80 and 55, respectively; and in 2007 the soundtrack-only "Pleased to Meet You" was rated the 83rd best song of the year.
The winner of this year's Hottest 100 was the song "Little Lion Man" by English indie-folk rock band Mumford & Sons, which was also named the "Hottest Record in the World" by BBC Radio 1 DJ Zane Lowe in July. Both Muse and Florence the Machine were featured in this year's 100 more than any other artist — a total of four entries each, with "Uprising" and "Dog Days Are Over", respectively, occupying the ninth and tenth spots. Also ever-present were comedy duo Flight of the Conchords, neo-psych Englishmen Kasabian and Australian post-punk band The Temper Trap, all with 3 entries each. In total, Australian acts occupied 36 of the 100 spots, while the UK and the US took 52 of the remaining 64 positions. Also to be noted is that "Little Lion Man" had the largest winning margin in Hottest 100 history.
ADDITIONAL NEWS! A video of Wolfmother performing Cosmic Egg opener "California Queen" at the Coronet Theatre in London, England on 21 October 2009 has been uploaded by the band's official YouTube profile. A PRO-SHOT, awesome HD quality clip showing the new Wolfmother members at their very best has been met with anticipation and rumours, the latter relating to the possibility of a DVD release of live footage sometime in the (hopefully near, but potentially not) future. As an attendee of aforementioned concert, I vaguely recall the phrase "recording for DVD" coming from Andrew Stockdale's mouth, although I may have misheard. Two main options are that: (1) the Coronet gig will be released as a standalone concert DVD, or (2) the Coronet footage will be included on a DVD documenting the entire "New Moon Rising World Tour". Anyway, it's awesome! So check it out.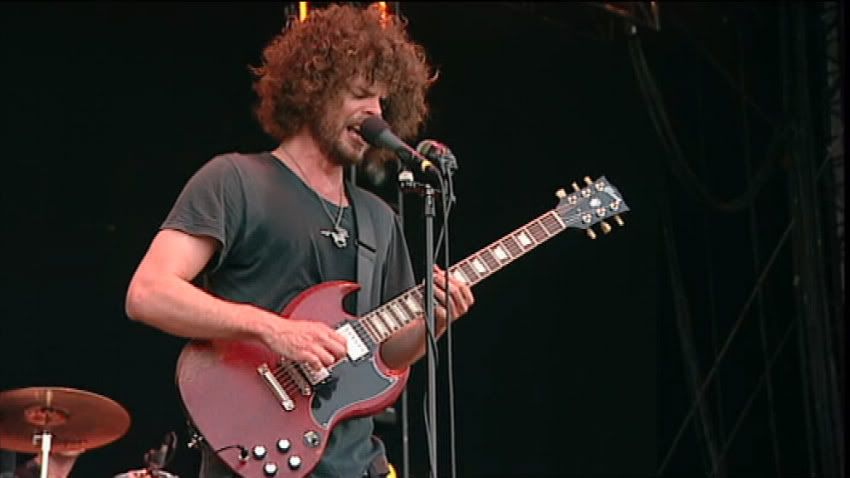 Yes! That's right! Wolfmother have been confirmed for this year's Download Festival held at Donington Park in England, due to take place Friday 11 to Sunday 13 June 2010. As confirmed by the festival's official site, Wolfmother are one of nine (currently) confirmed acts, which also include high-profile Australians AC/DC, heavy metal veterans Motorhead and Megadeth, alternative rock band Stone Temple Pilots and newly-formed supergroup Them Crooked Vultures, a personal favourite of a couple of forum members (including myself!).
No word yet on what day Wolfmother are due to perform, but with such a high-profile lineup it's unlikely they'll be headlining, so expect a maximum of 6-8 songs, give or take. Tickets go on sale Friday 29 January 2010, i.e. this Friday, the most expensive of which (for a single person) is the weekend + 5-day camping ticket, which is a pretty decent £180! Give us a shout on the forums if you plan on going, and commence excitement!
Wolfmother have performed at the festival, one of the UK's biggest for rock music, once before, in 2007, supporting headliners Velvet Revolver and, ultimately, My Chemical Romance on the main stage on the Friday (8 June 2007).