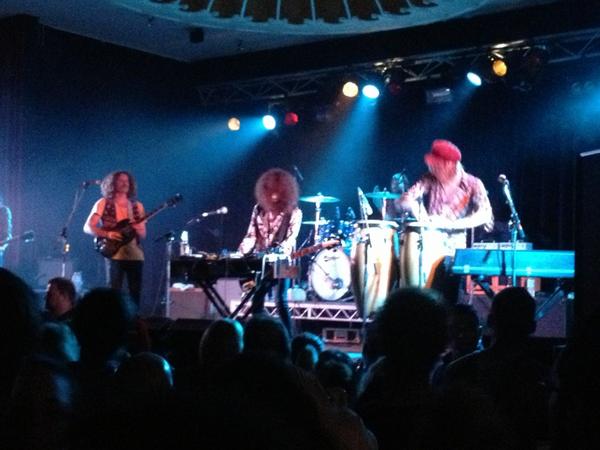 If you live in the Queensland area of Australia, the place to be on New Year's Eve 2012 was the Eatons Hill Hotel, where Grammy Award-winning rock titans Wolfmother brought 2013 to the world in style with a host of support bands! We weren't at the show, but below you can see a collection of photos from the fantastic night as sourced from Wolfmother fans on Twitter. If you have any photos of the night, please leave a link to them in the comments area below, or post in this topic on our forums!
Concert banner, uploaded on Instagram by Hamish Rosser (Wolfmother drummer)
Side view, uploaded on Instagram by Jay Bainbridge (support band Nine Sons of Dan vocalist)
Front view, uploaded on Twitter by Mick Hellyer
Far front view, uploaded on Instagram by Megan
Top side-front view, uploaded on Instagram by Flakey
Front view, uploaded on Twitter by Lili
Speaking in a new interview conducted by Australian live music website scenestr, Wolfmother frontman Andrew Stockdale has spoken in more depth about the recording process of the band's upcoming third album.
Most surprising to hear, perhaps, is that the album (tentatively titled Gatherings) features four drummers and three bassists, many more than have officially been a part of the band. Former drummer Will Rockwell-Scott – who was announced to have left the band in February 2012 – is believed to be joining current sticksman Hamish Rosser – who moved from The Vines to replace him – on the credits list, but with Ian Peres the constant bassist since second album Cosmic Egg it is difficult to ascertain who else has contributed in this capacity.
As previously reported, the as-yet officially untitled album, currently scheduled for a March 2013 release, is being largely self-produced by the frontman, who describes the collection as "a travelling record" based on its on-and-off recording process, which spans three studios.
The full interview can be read here, and as usual comments are appreciated below or in our forums!
Tweeting around five hours ago (4:30PM EST), Wolfmother frontman Andrew Stockdale revealed that the band would be playing a secret show tonight at the Great Northern Hotel in Byron Bay, the site of some of their earliest shows back in 2004 and 2005.
A warm-up for their grand return on New Year's Eve at the Eaton Hills Hotel in Brisbane, the show will be billed under the name 'Purple Opus', as revealed on the band's official Twitter page, and will feature the first performances of some new songs from the upcoming third album, as revealed on Stockdale's official Twitter page.
Details are vague at the moment, but if you have any more information or indeed end up going to the show, please leave them in the comments area below!
Edit 10:48PM EST: More details about the show have been discussed on Facebook by band member Ian Peres, who reveals that the show is free entry and began at 10:30PM local time (about 20 minutes ago). He also referred to a band as 'The Purple Hazes', although it's unknown whether this is the alias being used by Wolfmother or another act playing the same show.
Edit 10:52PM EST: It appears Wolfmother will be on around midnight local time, which suggests that The Purple Hazes is the band opening for Stockdale and co.
Edit 10:58PM EST: Wolfmother drummer Hamish Rosser has left a comment on Peres's Facebook post wishing him luck with the show, meaning he himself is not playing tonight. Possibly this means either a Stockdale-Peres-anyone else experience, or a sit-in drummer.
Edit 12:18AM EST: Per a tweet from one of the support bands, the acts performing alongside Wolfmother/Purple Opus/The Purple Hazes tonight are Marshall Okell and Hussy Hicks. No word yet on the main performance.
With Wolfmother-related news at its highest in months, some very big details regarding the follow-up to Cosmic Egg have finally been revealed by frontman Andrew Stockdale. The band's third studio album is tentatively titled Gatherings, and is currently scheduled for release in March 2013.
Speaking in an interview published last week (December 12th), Stockdale revealed that after "about 15 months of on-and-off recording in about four or five different locations", the group have eight of a planned 12 tracks for the album recorded, mixed, mastered, and ready for release. The currently accepted title of Gatherings is, in Stockdale's own words, "probably the best we've got so far", which suggests that a number of names are currently being considered for the release.
Andrew and his ever-changing gang have had their fair share of critics and naysayers over the past year or so, and the guitarist and singer is prepared to bear the brunt of the worst. "I don't have an excuse at this point [after two albums] to put out a crap record", he admits, identifying that the self-funded and -produced album is bound to draw some negative feedback. Despite this, Wolfmother's second album Cosmic Egg received mainly favourable response from critics, and performed well in the charts.
As always, Wolfmother.net will keep you right up to date with all the latest Wolfmother news, and you can discuss this story in the comments below or on our forums… here!