According to Wolfmother frontman Andrew Stockdale, the band's upcoming third album has been completed and is ready for release. Tweeting earlier today (February 25th), the vocalist, guitarist, songwriter and producer proclaimed that "This record is so done! I'm just trying to jump through the hoops to share this music with the world!", bringing a close to the latest chapter in Wolfmother's history.
Wolfmother — who have been through several personnel changes over the last few years — have been working on the follow-up to their 2009 second album Cosmic Egg since at least March 2011, when Stockdale, Ian Peres (bass, keyboards), and former members Aidan Nemeth (rhythm guitar) and Will Rockwell-Scott (drums) commenced recording in Australia. The album has been a long time coming though, with sporadic updates over the last two years claiming varying points of completion.
The band currently features rhythm guitarist Vin Steele, multi-instrumentalist Elliott Hammond and drummer Hamish Rosser in addition to Stockdale and Peres, although as revealed late last year the record will feature three bassists and four drummers, one of which is said to be Cosmic Egg drummer Dave Atkins. The most recently revealed title is Gatherings, although this is yet to be confirmed as the final name of the album.
Wolfmother.net will have more details when they become available, so keep checking back or head on over to our forums and our Facebook page for up-to-the-minute updates!
Update 1: Andrew has just tweeted the following: "A release is coming together, God bless iTunes for allowing spontaneity in the musical landscape of the world… this sh€:t is happening!"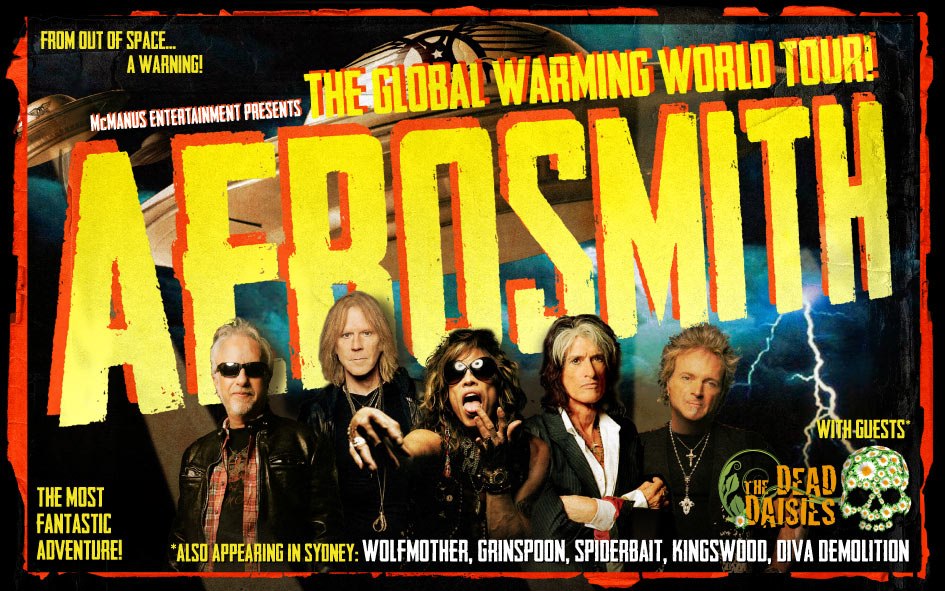 Veteran hard-rockers Aerosmith are set to tour Australia for the first time in 24 years this spring, and Wolfmother are among the support acts chosen for the shows.
The legendary group, who formed in Boston in 1970 and have produced such genre-defining hits as 'Sweet Emotion' and 'Crazy', recently released their first album of new material in over eight years after going through some turbulent times due mainly to public feuds between frontman Steven Tyler and guitarist Joe Perry.
Three shows have been announced for the brief Australian visit: April 28th at the ANZ Stadium in Sydney, May 1st at the Brisbane Entertainment Centre, and May 4th at Melbourne's Rod Laver Arena. At least one show in New Zealand has also been confirmed, at Dunedin Stadium on April 24th.
Wolfmother, who are currently set to release their third album in the next few months, will appear alongside The Dead Daisies, Grinspoon, Spiderbait, Kingswood and Diva Devolution at the Sydney show, and are also set to play the Dunedin date.
Will you be attending either of these shows? Comment below or let us know on the forums!
Following the news that the upcoming third album from Wolfmother, tentatively titled Gatherings, would feature four drummers and three bassists, it seems as if we have some solid indication of one of the sticksmen joining current band member Hamish Rosser on the record: former band member Dave "Acosta" Atkins.
Earlier on today (February 1st), Wolfmother frontman Andrew Stockdale uploaded an image to his Instagram account captioned "Syked [sic] to be playing at DMS tonight!", which depicts the singer-guitarist posing in front of a drummer with a striking resemblence to former band member Atkins. Originally from Brisbane, Atkins joined the band around November 2008, taking over from original drummer Myles Heskett as the first enlistment for 'Phase 2' of the group and performing on 'Back Round', before Ian Peres and Aidan Nemeth completed the new-look four-piece in January 2009. Despite leaving in April 2010 to focus on commitment to his family, Atkins has occasionally re-joined the band to perform live and help out with recording when needed.
With four drummers confirmed as appearing on the album, Atkins and successor Will Rockwell-Scott would be fair assumptions as to two of the three additional contributors, although the fourth is anyone's guess (and it's not Heskett!). This will come as welcome news to followers of the band, as Big Dave is somewhat of a cult favourite amongst Wolfmother fans, who applaud his high energy performances and style of play behind the kit.
How would you feel about Atkins appearing on the new album? What's your take on the whole "four drummers, three bassists" thing in general? Comment below, join in the discussion on our forums, or like our Facebook page!