Keep Moving Tour: Postponements and Additions
Australian Keep Moving Tour Dates Postponed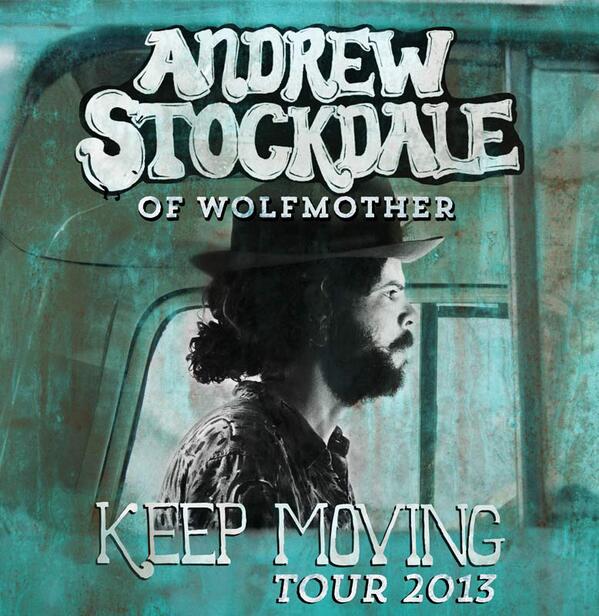 Earlier this week, Andrew Stockdale distributed a press release revealing that 13 of the 14 shows on the Australian leg of his Keep Moving Tour (all but Friday June 7th's album launch at Sydney's Metro Theatre) had been postponed. Making the announcement just a day before the first scheduled show, at the University of Newcastle's Bar on the Hill on June 6th, Stockdale cited "international commitments" as the reason for the setback, but was quick to assure fans that all tour dates would be rescheduled. With Stockdale's debut solo album Keep Moving having been released in the former Wolfmother frontman's home country on Friday, it will now receive no local touring support until later in the year upon rescheduling.
International Keep Moving Tour Dates Added
Moving swiftly on from the bad news to the good news, it was recently announced that Stockdale and his band would be bringing the Keep Moving Tour to the United States in the coming months, with a month-long stint comprising 24 shows pencilled in for July and August. Full details of tour dates and tickets can be found on our tour page. No word yet on dates in Europe or elsewhere.
Keep Moving Released in Australia, Readied Worldwide
And finally, the day we've all been waiting for is finally here! Keep Moving, Andrew Stockdale's debut solo album and his first since Wolfmother's 2009 sophomore effort Cosmic Egg, was released in Australia (and certain regions of Europe) by Universal Music on Friday, June 7th.
Those of us in the UK and other European regions can acquire the album tomorrow (June 10th), Americans will have to wait until Tuesday (June 11th), and Japan will receive it on Wednesday (June 12th). The album is currently sitting at #57 on the Australian iTunes album chart.
Any Other Business…
It seems as if it's actually Elliott Hammond who's taken over drum duties, appearing behind the kit in most recent photos of the band. If you've seen any differently, please let us know on our forums!