Personal note: sorry this is so late, but I recently moved house and don't have proper internet yet!
As teased on the mailing list, Wolfmother recently announced a bunch of European shows to be added to their Gypsy Caravan Tour in promotion of upcoming album Victorious.
The shows will follow the previously announced North American tour dates, beginning in Dublin, Ireland on April 8th and concluding in Bilbao, Spain on May 14th. Full dates are below.
April 8th – Olympia Theatre, Dublin (Ireland)
April 9th – Academy, Manchester (England)
April 10th – O2 Academy, Newcastle (England)
April 12th – O2 Academy, Glasgow (Scotland)
April 13th – O2 Academy, Leeds (England)
April 14th – Rock City, Nottingham (England)
April 16th – O2 Academy, Birmingham (England)
April 17th – O2 Academy, Bristol (England)
April 18th – O2 Guildhall, Southampton (England)
April 20th – O2 Shepherd's Bush Empire, London (England)
April 22nd – Palladium, Cologne (Germany)
April 23rd – Schlachtof, Weisbaden (Germany)
April 25th – Le Trianon, Paris (France)
April 26th – Paradiso, Amsterdam (Netherlands)
April 27th – AB, Brussels (Belgium)
April 29th – Oosterpoort, Gronigen (Netherlands)
April 30th – 013, Tilburg (Netherlands)
May 1st – Gross Freiheit, Hamburg (Germany)
May 2nd – Columbiahalle, Berlin (Germany)
May 4th – Vega, Copenhagen (Denmark)
May 5th – Rockefeller, Oslo (Norway)
May 6th – Gruna Lund, Stocholm (Sweden)
May 8th – Alcatraz, Milan (Italy)
May 9th – Volkshaus, Zurich (Switzerland)
May 10th – Kesselhaus, Munich (Germany)
May 13th – Apolo 1, Barcelona (Spain)
May 14th – Kristonfest, Bilbao (Spain)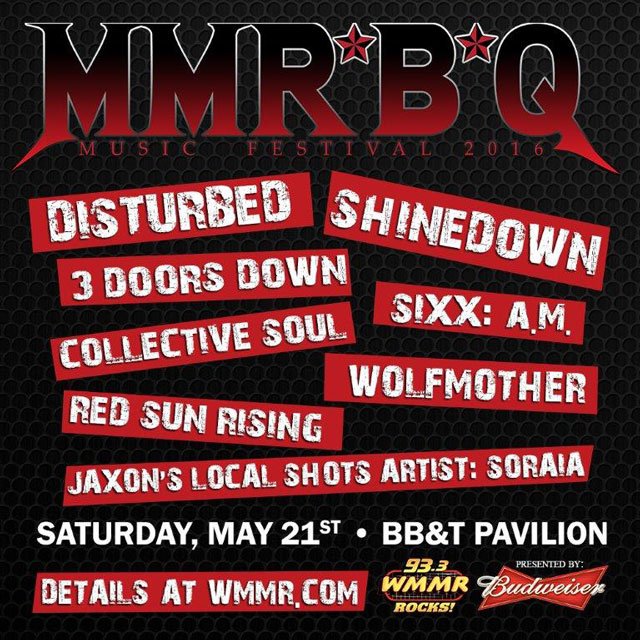 Wolfmother have announced that they are due to play at the MMRBQ festival on 21st May.
The event, which is hosted by Philadelphia, Pennsylvania-based rock radio station WMMR at the BB&T Pavilion in Camden, New Jersey, will this year also feature bands such as Disturbed, Shinedown, 3 Doors Down and Sixx:A.M.
The show takes place a month and a half after the end of the current batch of North American tour dates, suggesting the band may extend their stay in the US and Canada.
MMRBQ is the third festival appearance announced for the band, joining shows at Rock on the Range in Columbus, Ohio and Rock'n Derby in Schaghticoke, New York in the same week.
If you are interested in going, tickets are available here.
Hey all, just a quick note to say that you might notice that I have removed the chatbox from the right-hand side of the site. This is basically because (1) it has been filled with spam and arguing for a while now and (2) I would like to encourage everyone to use the new forums (which, by the way, are now linked above in the banner). Thanks in advance for understanding and supporting.
Speaking of the site, we should hopefully be having some cosmetic changes here soon, including on the forums. New banners, a few tweaks to make it a bit shinier here and there; nothing too drastic, but some much-needed updates for sure. If you have any suggestions, please comment below!
Peace.
Following on the heels of 'Victorious' and 'City Lights', Wolfmother have released the third track from their upcoming fourth album Victorious, 'Gypsy Caravan'.
Once rumoured to be the title of the album, 'Gypsy Caravan' also shares its name with the Victorious US promotional tour, due to begin on 24th February in Minneapolis.
What do you think of the track? Head over to our forums to discuss it with fellow fans!