Wolfmother Song on Zoolander No. 2
February 8, 2016 by Andre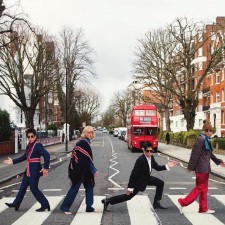 According to Mr. Andrew Stockdale, Wolfmother will have a new song called 'Remove Your Mask' included on the soundtrack for the upcoming film Zoolander No. 2. The film, which was directed by lead star Ben Stiller and opens in cinemas worldwide at the end of this week (February 12th), is the long-awaited sequel to 2001's Zoolander.
Posting on his various social media accounts, Stockdale said the following about the news: "Super psyched to have a new song "Remove Your Mask" in Zoolander 2!!! The sequel to possibly the greatest movie of all time!" 'Remove Your Mask' is not included on the standard editions of Victorious, but in a comment the Wolfmother frontman confirmed that it would be included on deluxe editions of the album (yet to be announced).
Furthermore, in an interview with Chicago Innerview published last year, Stockdale named 'Remove Your Mask' as one of his favourite tracks from the upcoming record, explaining that the song is about "pretentious people [who put] all their energy is put into maintaining a façade".