In addition to the band's recently announced shows supporting Guns N' Roses, Wolfmother have added three extra North American shows in July.
First, the band will visit the Double Door in Chicago, Illinois on July 10th, before playing their two shows with Axl Rose and co. on the 12th and 14th in Philadelphia.
They will then play New York City's Webster Hall on July 15th, before wrapping up the pit-stop tour at Lee's Palace in Toronto, Ontario, Canada two days later.
Tickets are available now; links can be found on our tour page here.
It has today been announced that Wolfmother will support Hollywood hard rock legends Guns N' Roses at two shows on their "Not in This Lifetime Tour", which is making its way across the United States.
The Australian trio will join Axl Rose, Slash, Duff McKagan and co. on 12th and 14th July at shows in Pittsburgh and Philadelphia, Pennsylvania, respectively. Other high-profile support acts on the tour include Alice in Chains, Lenny Kravitz and, somewhat oddly, dubstep producer Skrillex.
Tickets for the shows are available here: Pittsburgh, Philadelphia.
Wolfmother have today announced a string of European shows set to take place in November 2016. The tour, which includes ten dates in five countries, extends the Gypsy Caravan Tour until almost the end of the year.
Beginning in Budapest, Hungary on November 9th, the tour will later move onto the Czech Republic, Austria, Germany and Luxembourg, before the band return to Germany to finish the tour in Bremen on November 26th.
Wolfmother are currently taking a break from their busy touring schedule, but are due to return in August with performances at festivals in Germany, Belgium and more countries in Europe. Check out all of the band's current tour dates, complete with links to purchase tickets, here.
Wolfmother November 2016 European tour dates:
November 9 at Akvarium Club, Budapest, Hungary
November 10 at Roxy, Prague, Czech Republic
November 11 at Event Center, Hohenems, Austria
November 15 at Batschkapp, Frankfurt, Germany
November 16 at LKA-Longhorn, Stuttgart, Germany
November 18 at Capitol Hannover, Hannover, Germany
November 21 at GARAGE, Saarbrücken, Germany
November 22 at Jovel Music Hall, Münster, Germany
November 25 at Den Atelier, Luxembourg City, Luxembourg
November 26 at Aladin Music Hall, Bremen, Germany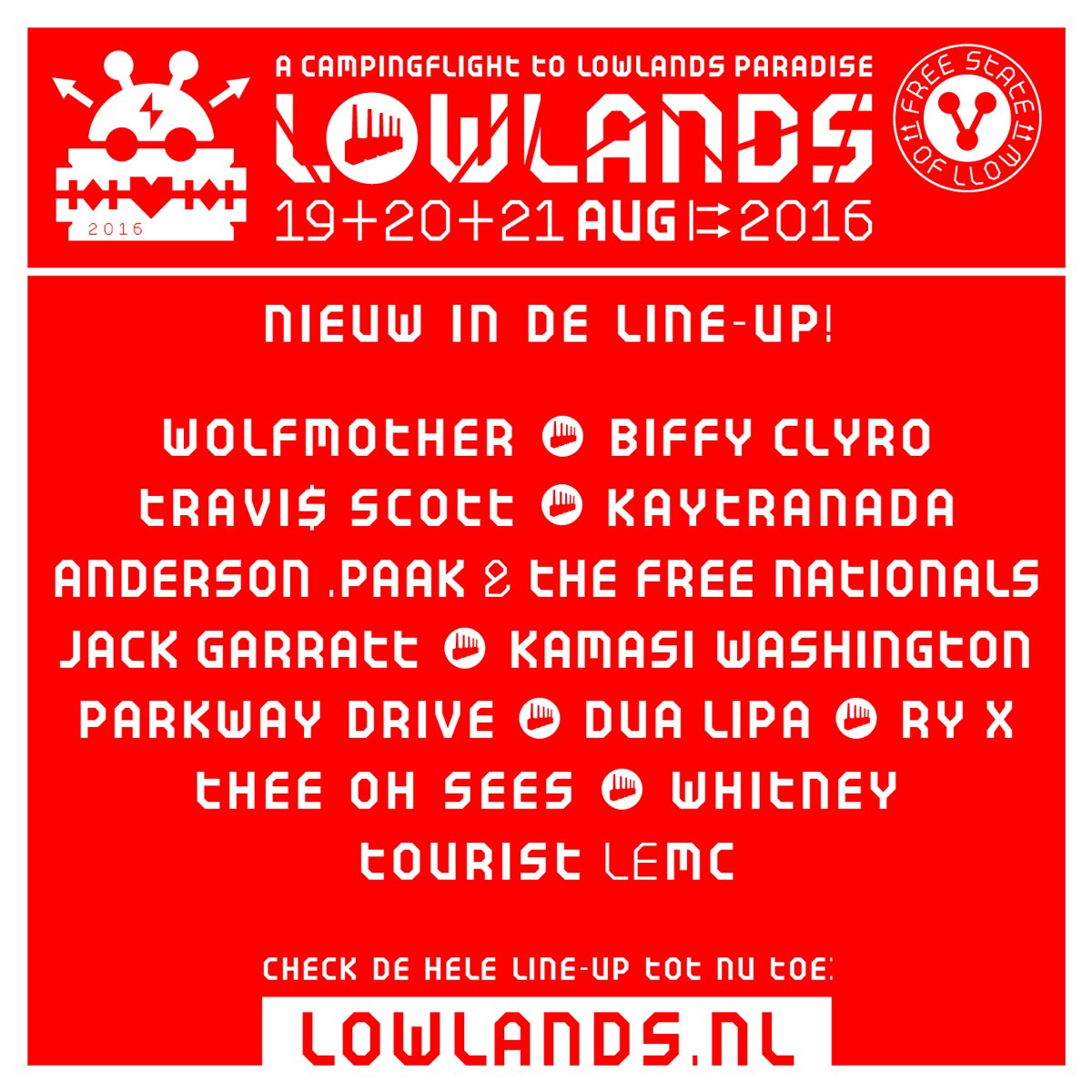 Over the last few days, Wolfmother have been announced for performances at numerous festivals in the United States later this year.
Adding to their current string of appearances at festivals such as Rock on the Range in the summer, the band will play at LIVE 105's BFD in Mountain View, California on June 4th and 91X's X-Fest in San Diego California the next day, and will later appear at Dutch festival Lowlands on August 20th.
Undoubtedly one of the highlights of the band's touring schedule, Wolfmother's show at Lowlands in Biddinghuizen is their second, having played there back in 2006. This year, the festival sees high-profile appearances from Muse, Biffy Clyro and more.
Wolfmother will also play at the TuneIn Sessions Showcase, part of the South by Southwest festival, in Austin, Texas next week (March 17th). More details are available here.
Post-hardcore prog band Coheed and Cambria will be performing at Lady Bird Lake in Austin, Texas on Friday 18th March, with Wolfmother on the bill as main support act.
The show will take place on the South by Southwest (SXSW) Outdoor Stage and will be free to attend for those with a Guest Pass to this year's festival. Also playing will be garage punk trio Tijuana Panthers and indie group Beach Slang.
Click here for more information.
Last night (February 24th), Wolfmother kicked off the opening North American leg of their Gypsy Caravan Tour at First Avenue in Minneapolis, Minnesota.
The tour, organised in promotion of the band's latest album Victorious, will visit 24 venues in the United States and Canada between now and April 1st, before moving on to Europe for a 28-show stint starting on April 8th.
Teaming up with new touring drummer Alex Carapetis, the trio played a set featuring old classics and new hits in front of a sold out crowd. Check out the full setlist below and a few photos and videos from the show on Instagram here.
"Victorious"
"New Moon Rising"
"Woman"
"Apple Tree"
"The Love That You Give"
"White Unicorn"
"California Queen"
"How Many Times"
"Gypsy Caravan"
"Dimension"
"The Simple Life"
"Mind's Eye"
"Colossal"
"Vagabond"
"Joker & the Thief"
Last night (Thursday 11th February), Wolfmother performed at the recording of an upcoming episode of American late-night talk show Jimmy Kimmel Live! in promotion of upcoming album Victorious.
The show, which took place in Hollywood, California, featured Alex Carapetis (of Julian Casablancas + The Voidz and more) returning on drums. Carapetis has previously filled in for rehearsal sessions with the band, and will remain for upcoming Gypsy Caravan Tour dates (in at least the US).
The setlist was a mix of new and old, featuring 'Victorious', 'The Love That You Give', 'Woman', 'New Moon Rising' and 'Joker & the Thief'. The show will be broadcast on Wednesday 24th February (the opening day of the Gypsy Caravan Tour), but for now you can watch a couple of videos below.
Personal note: sorry this is so late, but I recently moved house and don't have proper internet yet!
As teased on the mailing list, Wolfmother recently announced a bunch of European shows to be added to their Gypsy Caravan Tour in promotion of upcoming album Victorious.
The shows will follow the previously announced North American tour dates, beginning in Dublin, Ireland on April 8th and concluding in Bilbao, Spain on May 14th. Full dates are below.
April 8th – Olympia Theatre, Dublin (Ireland)
April 9th – Academy, Manchester (England)
April 10th – O2 Academy, Newcastle (England)
April 12th – O2 Academy, Glasgow (Scotland)
April 13th – O2 Academy, Leeds (England)
April 14th – Rock City, Nottingham (England)
April 16th – O2 Academy, Birmingham (England)
April 17th – O2 Academy, Bristol (England)
April 18th – O2 Guildhall, Southampton (England)
April 20th – O2 Shepherd's Bush Empire, London (England)
April 22nd – Palladium, Cologne (Germany)
April 23rd – Schlachtof, Weisbaden (Germany)
April 25th – Le Trianon, Paris (France)
April 26th – Paradiso, Amsterdam (Netherlands)
April 27th – AB, Brussels (Belgium)
April 29th – Oosterpoort, Gronigen (Netherlands)
April 30th – 013, Tilburg (Netherlands)
May 1st – Gross Freiheit, Hamburg (Germany)
May 2nd – Columbiahalle, Berlin (Germany)
May 4th – Vega, Copenhagen (Denmark)
May 5th – Rockefeller, Oslo (Norway)
May 6th – Gruna Lund, Stocholm (Sweden)
May 8th – Alcatraz, Milan (Italy)
May 9th – Volkshaus, Zurich (Switzerland)
May 10th – Kesselhaus, Munich (Germany)
May 13th – Apolo 1, Barcelona (Spain)
May 14th – Kristonfest, Bilbao (Spain)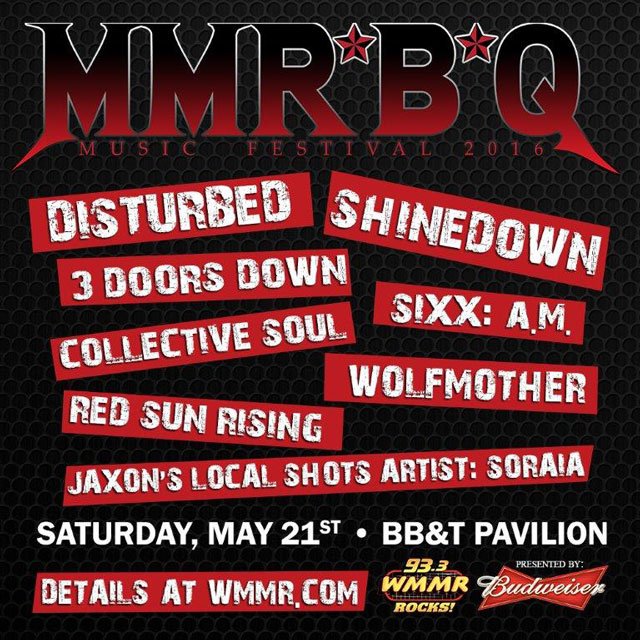 Wolfmother have announced that they are due to play at the MMRBQ festival on 21st May.
The event, which is hosted by Philadelphia, Pennsylvania-based rock radio station WMMR at the BB&T Pavilion in Camden, New Jersey, will this year also feature bands such as Disturbed, Shinedown, 3 Doors Down and Sixx:A.M.
The show takes place a month and a half after the end of the current batch of North American tour dates, suggesting the band may extend their stay in the US and Canada.
MMRBQ is the third festival appearance announced for the band, joining shows at Rock on the Range in Columbus, Ohio and Rock'n Derby in Schaghticoke, New York in the same week.
If you are interested in going, tickets are available here.
So… looks like the rumours were right on the money! Wolfmother have confirmed that their fourth studio album will be entitled Victorious and will see release on 19th February 2016. The release looks to be supported by the band's label Universal, contrary to the self-released New Crown of last year. The rumoured title Gypsy Caravan is actually the title of a new song, but the artwork was pretty much bang on so this could have been an earlier planned title for the album.
Customers who pre-order Victorious on iTunes (currently only available on the US store, possibly more when you're reading this!) will also receive downloads of the tracks 'Victorious' (the album's lead single) and 'City Lights'. Both tracks are also available on YouTube (click song titles). The full track listing can be seen below. The one note I personally would make is that the album seems short, clocking in at just over 35 minutes. However, quality over quantity and all that, so bring it on.
The album is confirmed to feature frontman Andrew Stockdale on vocals, guitars and bass, with drums shared between Josh Freese and Joey Waronker. No word yet on whether Ian Peres and Vin Steele appear on the record, but they are not mentioned yet. Recording took place at Henson Studios in Hollywood, California with producer Brendan O'Brien.
EDIT: Andrew has since confirmed that Ian Peres will in fact be on the album. He played all the keyboards on the album, with bass handled by Andrew as mentioned. Andrew stated in an interview with Loudwire that the recording of the keys "only took two days".
Also confirmed is a North American tour, which will start on 24th February in Minneapolis, Minnesota and run until 1st April in Vancouver, British Columbia. Full details can be found at this exclusive Billboard magazine interview with Andrew.
Victorious track listing:
The Love That You Give — 2:38
Victorious — 4:24
Baroness — 3:15
Pretty Peggy — 3:49
City Lights — 3:51
The Simple Life — 3:12
Best of a Bad Situation — 3:07
Gypsy Caravan — 3:34
Happy Face — 3:31
Eye of the Beholder — 3:59