Last night (Thursday 11th February), Wolfmother performed at the recording of an upcoming episode of American late-night talk show Jimmy Kimmel Live! in promotion of upcoming album Victorious.
The show, which took place in Hollywood, California, featured Alex Carapetis (of Julian Casablancas + The Voidz and more) returning on drums. Carapetis has previously filled in for rehearsal sessions with the band, and will remain for upcoming Gypsy Caravan Tour dates (in at least the US).
The setlist was a mix of new and old, featuring 'Victorious', 'The Love That You Give', 'Woman', 'New Moon Rising' and 'Joker & the Thief'. The show will be broadcast on Wednesday 24th February (the opening day of the Gypsy Caravan Tour), but for now you can watch a couple of videos below.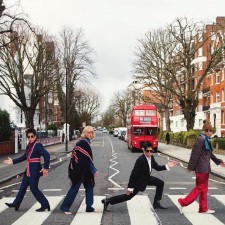 According to Mr. Andrew Stockdale, Wolfmother will have a new song called 'Remove Your Mask' included on the soundtrack for the upcoming film Zoolander No. 2. The film, which was directed by lead star Ben Stiller and opens in cinemas worldwide at the end of this week (February 12th), is the long-awaited sequel to 2001's Zoolander.
Posting on his various social media accounts, Stockdale said the following about the news: "Super psyched to have a new song "Remove Your Mask" in Zoolander 2!!! The sequel to possibly the greatest movie of all time!" 'Remove Your Mask' is not included on the standard editions of Victorious, but in a comment the Wolfmother frontman confirmed that it would be included on deluxe editions of the album (yet to be announced).
Furthermore, in an interview with Chicago Innerview published last year, Stockdale named 'Remove Your Mask' as one of his favourite tracks from the upcoming record, explaining that the song is about "pretentious people [who put] all their energy is put into maintaining a façade".
It has today (March 30th) been revealed that the title track to Andrew Stockdale's new album, 'Keep Moving', is set to appear on the soundtrack for upcoming Marvel action movie Iron Man 3, directed by Shane Black.
Back in May last year, it was hinted by Stockdale that the song 'Ghetto' could feature in the film, although the track has now been bumped and replaced with 'Keep Moving'. The soundtrack is set to be called Heroes Fall, and will be released by Hollywood Records in partnership with Marvel Music on April 30th, just a few days before the film hits US cinemas on May 3rd.
By our calculations, this marks the 17th occasion on which Wolfmother (or Andrew Stockdale, as is the case now) will have appeared on a movie soundtrack, with tracks from Wolfmother and Cosmic Egg having graced the musical backings of such blockbusters as The Hangover, Shrek the Third and Spider-Man 3 in past years.
Thanks to forum member shotguy for revealing the news!
It seems that Wolfmother and Australian radio station Triple J are at odds with one another, following an outburst by frontman Andrew Stockdale at the band's recent Splendour in the Grass performance.
During the group's set, which included hits like 'Woman' and 'Joker & the Thief', and new track 'Keep Moving', Stockdale levelled criticism at the station for not paying attention to the group's early demo, and subsequently ceasing to play their material when public interest in their music decreased. Describing the station's staff as "Left-wing conservatives sitting up in their offices on their government-paid wages", he concluded his speech with the statement "Triple J can go fuck themselves!".
He later took to the official Wolfmother Twitter page to respond to a tweet from the station pointing out the male dominance of the crowd at the show, a claim he described in reply as "100% consistently lame". Triple J presenter Tom Ballard and comedian Rhys Nicholson have responded negatively to Andrew's statements, with a number of fans defending him on Twitter.
Triple J and Wolfmother have in the past shared a relatively positive relationship, with a number of interviews and up-to-date news stories given exclusively to the station on a number of occasions. The band also won the 2005 J Award for Best Australian Album for their self-titled debut, and were named a record eight times in the Triple J Hottest 100 in the same year, with two entries in the top ten. It remains to be seen how this latest development will affect their future collaborations.
Wolfmother have one more date left on their current touring cycle, supporting The Smashing Pumpkins at Melbourne's Hisense Arena tomorrow (August 2nd), and are expected to return to working on their anticipated third album thereafter.
Wolfmother.net will bring your more updates when they are available. For now, why not discuss this story on our forums!
On 30 November, Andrew reported on his Twitter that Wolfmother would be "playing Sydney-based morning TV show "Sunrise" this coming Wednesday Dec 2!" In the same tweet, he added that "We'll play the new single White Feather," which provides the first official confirmation that the song is to be released as the next single.
On the show, Sunrise, the band enthusiastically performed "White Feather" and old favourite "Joker & the Thief". Click the links below to check out the performances. Also, why not visit the forums and tell us what you think!
Wolfmother – White Feather (live on Sunrise)
Wolfmother – Joker & the Thief (live on Sunrise)

Not really news, but the Jimmy Kimmel show has uploaded the video of Wolfmother performing upcoming single "White Feather" on the show. Click the link below to watch it!
Wolfmother – \"White Feather\" (Jimmy Kimmel)
Following a competition on the Wolfmother Forums, several members submitted reviews of Wolfmother's new album. I was blown away with the quality quality of entries, but I had to choose a winner … and that was Dan Leary (Danleary). Dan will receive a copy of the band's original album, Wolfmother, in double LP vinyl stylie. Thank you so much to everyone that entered – your reviews will be immortalised on this here site (well, as long as it exists!).
Winner
By Danleary
Other entries
By RWS
By auspicepresider
By MisterMother
By mymindhaseyes?
By Ben Vernel (hosted on The Dwarf)
(plus thanks for the one word review from b-RyCe, the visual review from Thunder God, and the one paragraph review from Andre.)
Wolfmother's Cosmic Egg – a review by Dan Leary [Read more]
If you tune into Triple J this week, they'll be playing songs from Cosmic Egg at random intervals during the day every day this week.
They've already played "White Feather", "California Queen", "Sundial", "10,000 Feet", "Far Away", "Pilgrim" and "Phoenix" today alone, so tune in and get a taste of the new album before it hits the stores in 11-17 days (depending where you live in the world). For those who don't live in Australia, listen to their web stream.
Here's what Triple J had to say about Wolfmother's new album:
The sprawling musical beast that is Wolfmother, has resurfaced with a new line up, a new direction and a brand new album; Cosmic Egg.

It's a record that strikes a balance between the band's trademark psychedelic riffery and a more scuzzed-out stoner rock sound. Cosmic Egg was recorded by the four-piece in LA with veteran producer Alan Moulder (Smashing Pumpkins, NIN, MBV, JAMC).

All up, this is a remarkably assured follow-up record, and our feature album all this week on triple j.
Wolfmother officially announced today that they are virtually set to appear with many great artists on yet another Guitar Hero game!
The White Stripes, The Rolling Stones, Bob Dylan and Beck is just a sample of the fantastic artists which will be appearing on 'Guitar Hero 5′ and I think you will agree that it is looking like a fantastic game in the making!
Further yet, Wolfmother are continuing the free give away of their latest single,' Back Round' by letting fans download it from the Guitar Hero 5 Website. So if you have yet to download the new Wolfmother single, all you have to do is go to the website and register and it's yours!
Rumours of Wolfmother on Guitar Hero 5 were first raised when a statement confirmed that Alan Moulder would be producing their up coming album 'Cosmic Egg'. It is now apparent that Alan Moulder worked with Andrew Stockdale to record a Back Round for Guitar Hero 5, which hopefully means that it's still going to sound as awesome as the track originally sounds.
[Read more]
I played Guitar Hero for the first time this Christmas (I know, where have I been?!) and loved rocking out to Woman. I actually got fairly decent by the end of the holidays and managed to complete it on Hard (oh shut up all of you Expert 'experts').
Well, Wolfmother fans, you'll now be able to have a crack at another Wolfmother classic, Dimension. In honour of Australia day, Activision are releasing a special "Australian Track Pack", available on Xbox live Jan 22, and PS and Wii Feb 5.
Oh, you also get Silverchair's Tomorrow and The Vine's Outtathaway if you are interested.
Rock on, Wayne. Rock on, Garth.