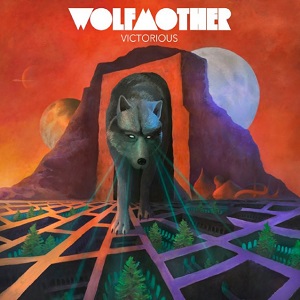 More than a week ahead of its official release, Wolfmother's new album Victorious can now be heard over on the National Public Radio (NPR) website.
Praising the band for producing "arena-rock designed to contain everything that inspires it", NPR have made all ten tracks from the album available for free listening, giving fans their first exposure to six previously unreleased songs.
What do you think of the new album?
Wolfmother have today unveiled the lyric video for 'Pretty Peggy'. Debuted exclusively via Shazam, the video was directed by Willie Witte, who has previously animated a video for the Chicken Lips Malfunction Remix of 'Love Train'.
As for the song, Shazam noted that 'Pretty Peggy' "showcases the softer side of the band", which somewhat marks a departure from the band's typical hard rock approach.
Following on the heels of 'Victorious' and 'City Lights', Wolfmother have released the third track from their upcoming fourth album Victorious, 'Gypsy Caravan'.
Once rumoured to be the title of the album, 'Gypsy Caravan' also shares its name with the Victorious US promotional tour, due to begin on 24th February in Minneapolis.
What do you think of the track? Head over to our forums to discuss it with fellow fans!
So… looks like the rumours were right on the money! Wolfmother have confirmed that their fourth studio album will be entitled Victorious and will see release on 19th February 2016. The release looks to be supported by the band's label Universal, contrary to the self-released New Crown of last year. The rumoured title Gypsy Caravan is actually the title of a new song, but the artwork was pretty much bang on so this could have been an earlier planned title for the album.
Customers who pre-order Victorious on iTunes (currently only available on the US store, possibly more when you're reading this!) will also receive downloads of the tracks 'Victorious' (the album's lead single) and 'City Lights'. Both tracks are also available on YouTube (click song titles). The full track listing can be seen below. The one note I personally would make is that the album seems short, clocking in at just over 35 minutes. However, quality over quantity and all that, so bring it on.
The album is confirmed to feature frontman Andrew Stockdale on vocals, guitars and bass, with drums shared between Josh Freese and Joey Waronker. No word yet on whether Ian Peres and Vin Steele appear on the record, but they are not mentioned yet. Recording took place at Henson Studios in Hollywood, California with producer Brendan O'Brien.
EDIT: Andrew has since confirmed that Ian Peres will in fact be on the album. He played all the keyboards on the album, with bass handled by Andrew as mentioned. Andrew stated in an interview with Loudwire that the recording of the keys "only took two days".
Also confirmed is a North American tour, which will start on 24th February in Minneapolis, Minnesota and run until 1st April in Vancouver, British Columbia. Full details can be found at this exclusive Billboard magazine interview with Andrew.
Victorious track listing:
The Love That You Give — 2:38
Victorious — 4:24
Baroness — 3:15
Pretty Peggy — 3:49
City Lights — 3:51
The Simple Life — 3:12
Best of a Bad Situation — 3:07
Gypsy Caravan — 3:34
Happy Face — 3:31
Eye of the Beholder — 3:59
If you follow Wolfmother on Instagram (click here for the good stuff), you'll have seen that the band have shared a few photos of a filming session for what promises to be an incredible music video.
As of the time of this article's posting, the band have posted three photos said to be from the filming session(s). Things to note include the use of a green screen (suggesting there will be some use of special effects), guest stars (do these guys look familiar to anyone?) and Andrew's incredible Star Wars-esque guitar (above). No sign of other band members yet, though.
Credit where credit is due — the guitar in question was created by a gentleman called Dominic "Nico" Guidote, who revealed in a comment on one of the photos that he calls it the "Guitar Destroyer". He even suggested, in reply to a comment from the band's account, that it might be used at future gigs… WHAT?! Incredible.
Given that the band's last music video was shot awkwardly next to a van and in a rehearsal room, this is a pretty exciting new development. It also suggests that recording is coming to an end, as the lead single at least must be ready to go! ALL ABOARD THE HYPE TRAIN, CHOO-CHOO!
So by now it's common knowledge among fans that Wolfmother are recording their fourth studio album at the moment, but the band have ENGAGED HYPE MODE and now we can hear a very, very short clip from the album. Click here for the goods.
In terms of its sound, it is classic Wolfmother — a heavy guitar riff, rolling drums, dirty bass — and its production style could be described as somewhere between Wolfmother and Cosmic Egg… it sounds well produced, but not over-produced. It might only be 15 seconds long, but reactions from fans are already positive, with many applauding the direction.
Not too much is known about the as-yet untitled album from the Aussie rockers, but we do know that Andrew and co. (even the lineup is yet to be confirmed — at latest check, it was Andrew, Ian and Vin) have recorded at Jim Henson Studios in LA, and that they have been working with producer Brendan O'Brien. Andrew has also posted photos confirming he's worked with drummers such as Josh Freese, although it's unknown if this is for the Wolfmother record or not.
Look out in 2016 for the new album!
Click here to check out the sample.
Old news by now for most of you, I know, but just something to get the ball rolling again after a long period of inactivity…
Wolfmother are to release a 10th anniversary edition of their self-titled debut album later this year. The album, commemorating ten years since the October 2005 Australian release of the seminal rock release, will feature all 13 original tracks plus B-sides and previously unreleased demo recordings.
The special deluxe edition of Wolfmother is set to be released on Friday, 25 September 2015. The five B-sides included are 'The Earth's Rotation Around the Sun' (from the 'Mind's Eye' single), an acoustic version of 'Vagabond' (from the 'Woman' single), the Loving Hands remix of 'Joker & the Thief' (from the 'Joker & the Thief' single), the MSTRKRFT remix of 'Woman' (from the 'Woman' single) and the Chicken Lips Malfunction remix of 'Love Train' (from the 'Love Train' single).
A second disc includes ten demo recordings and five live performances, many of which have not been released (or at least released everywhere) before. Many of the demo recordings from the fabled Velvet Sound Demo, recorded for Interscope Records in a single day prior to the recording of the final album. These have never been officially released, or even made their way into wide distribution (as far as this experienced author is aware, anyway!).
In related news, Wolfmother are set to release their fourth studio album in 2016. Early track titles included 'Wedding', 'City Lights', 'Behemoth' and 'Simple Life'. The album was produced by Brendan O'Brien. But more on that later, I'm sure…
Wolfmother 10th anniversary edition track listing
Disc one: original album and bonus B-sides:
'Dimension'
'White Unicorn'
'Woman'
'Where Eagles Have Been'
'Apple Tree'
'Joker & the Thief'
'Colossal'
'Mind's Eye'
'Pyramid'
'Witchcraft'
'Tales from the Forest of Gnomes'
'Love Train'
'Vagabond'
'The Earth's Rotation Around the Sun'
'Vagabond' (acoustic version)
'Joker & the Thief' (Loving Hands remix)
'Woman' (MSTRKRFT remix)
'Love Train (Chicken Lips Malfunction remix)
Disc two: demos, B-sides and live recordings:
'Dimension' (demo)
'White Unicorn' (demo)
'Woman' (early days demo)
'Apple Tree' (demo)
'Not Goin' Home' ('Joker & the Thief' demo)
'Colossal' (demo)
'Pyramid' (early jam demo)
'Witchcraft' (rehearsal room demo)
'Love Train' (rehearsal room demo)
'Vagabond' (rehearsal room demo)
'Woman' (live)
'Tales from the Forest of Gnomes' (live)
'Mind's Eye' (live)
'Dimension' (live)
'Where Eagles Have Been' (live)
In the wake of the release of the band's new album New Crown, Wolfmother frontman Andrew Stockdale recently added clarity to a number of situations surrounding recent events, including the change between the Wolfmother and Stockdale names, whether or not the band are still signed to a record label, and the recording and release process of the new record.
Speaking in an interview with Australian rock radio station Triple M, the vocalist, guitarist, and songwriter claimed that, despite many news sources dubbing Stockdale's brief venture into solo territory as the band "breaking up", in fact the Wolfmother moniker had only been "shelved", explaining that it didn't make complete sense to drop the Wolfmother name for too long.
Joined by long-standing fellow bandmate Ian Peres for the interview, Stockdale also revealed the news that many had suspected — that Wolfmother had left their record label, Universal — attributing this to the fact that it's "a very long process getting anything done", jokingly calling the situation "a total disaster". The split from the label made it easier for the band to release New Crown much more quickly, and Stockdale has also stated that the trio has around 35 additional new songs ready for the next release.
Listen to the full interview here, and let us know what you think in the comments below!
Following on from our recent rumour article, Wolfmother frontman Andrew Stockdale has confirmed that new album New Crown will indeed be seeing a physical release following its debut on Bandcamp and, more recently, iTunes.
With his newest record making its way up the iTunes album charts, Stockdale revealed – in a comment on one of his Instagram posts – that New Crown will be released as a CD on Monday (March 31st) and as a vinyl "soon".
Upon initial search, no online music outlets appear to have the CD version of the album for sale yet, although we will update you with details as and when they become available. You can see Stockdale's comment below.
Hot on the heels of their brand new album New Crown, Wolfmother have released the first music video from the record, for the song 'Heavy Weight'. This marks the first video since 2010's 'Far Away', not counting 2013's 'Long Way to Go', which was credited to Andrew Stockdale.
Published on the band's official YouTube channel earlier today (March 25th), 'Heavy Weight' is a homebrew-style video showing the band goofing around in a van, a coffee shop, and at the side of the road. The physical edition of the album also makes a sneaky cameo appearance.
What do you think of Wolfmother's new music video? Let us know in the comments below, or come chat to us on our official Facebook page!