Former Wolfmother band members Chris Ross (bass, keyboards) and Myles Heskett (drums) are scheduled to appear at an event in Sydney later this week speaking to attendees about songwriting and music.
The event has been organised by the Australasian Performing Right Association (APRA), who awarded Ross and Heskett (along with frontman Andrew Stockdale) the Songwriter of the Year award at their 2007 APRA Awards ceremony, as well as the Breakthrough Songwriter Award the previous year. Dubbed Songwriter Speaks, the session is described by APRA as focused on "songwriters that not only cross boundaries but hemispheres too".
Ross and Heskett formed Wolfmother with recently-solo Stockdale in Sydney in 2000, and co-wrote the band's self-titled debut album released in 2005. They left the band in 2008, citing personal and musical differences, and went on to form electronic group The Slew with Kid Koala and Dynomite D. The duo are currently performing with Sarah Kelly in Good Heavens.
Full details of the event can be found here. Thanks to APRA's Greg Morrow for the information!
We're the same as you — we have absolutely no idea at the moment what our beloved Wolfmother are doing, but this news today leads us to believe that maybe the group are finally nearly finished with their upcoming third album (the first with the current lineup).
Drummer Hamish Rosser, recruited by Stockdale and co. from The Vines earlier this year, is set to join Melbourne alternative rockers The Living End on their upcoming Retrospective Tour… as a DJ! The band are playing almost 40 shows throughout November and December, visiting five cities and revisiting their entire back-catalogue by playing all six of their albums back-to-back for fans, and have enlisted the services of a whole host of supporting acts, including bands and DJs.
Wolfmother's newest drummer, who replaced the departed Will Rockwell-Scott in February, will take part in the unique tour by performing at all seven shows at The Zoo in Brisbane, taking place between December 1st and 7th this year. Two of the shows have already sold out.
Going to any of these shows and want to share your stories with likeminded fans? Head on over to the official Wolfmother.net Facebook page and chat with us!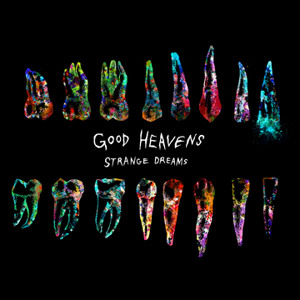 Blogging for radio station Triple J, which is currently in the middle of a catfight with Andrew Stockdale, Good Heavens frontwoman Sarah Kelly has provided a guide to the band's debut album Strange Dreams, released last week.
Warning listeners that "These songs and ideas are not for the faint of heart", Kelly has provided backstories and information for every song on the album, including recent single 'It's Not Easy Being Mean'.
The full feature can be read here. Check back to Wolfmother.net and WeLoveChrisRoss.com for more information soon… and yes, we will have Wolfmother news as soon as humanely possible!
After leaving Wolfmother in August 2008, former members Chris Ross (bass, keyboards) and Myles Heskett (drums) have tried their luck in a number of musical projects, including Doom Buggy and Palace of Fire, and have now returned with their latest group, Good Heavens.
With Sarah Kelly at the helm on vocals and guitar, Good Heavens released their debut single on July 17th through Australian independent label Rice Is Nice Records. 'It's Not Easy Being Mean' is taken from the group's upcoming debut album Strange Dreams, which will be released on August 17th, and showcases the trio's mid-paced, grungy sound featuring Kelly's powerful vocals on top of the experienced rhythm section of Ross and Heskett.
Good Heavens' official biography can be read on the group's page on the Rice Is Nice website, here, and the band can also be found on Facebook and Twitter. As usual, be sure to discuss this story on our forums, and stick with Wolfmother.net for more news and updates!
We long heard about the side project that Chris and Myles have had going, but will "Palace of Fire" stick around, or will it fade into the ether like Doom Buggy?
Well either way, it's good to see Wolfmother's previous members reappear on stage. Along with Matt Blackman from Charge Group, they played as Palace of Fire at Sydney's Hopeturn Hotel last Monday, and are possibly playing as I type this (or have already been on stage) at the Boogie Festival in Melbourne this Easter Weekend.
News story via: The Vine
Photo via: The Vine (plus click for more from the Sydney gig)
I haven't heard any audio yet, but The Vine calls the sound as combining "combine the toughness and versatility of Wolfmother with the more refined, cinematic approach of Charge Group and Blackman's former band Purplene".
Oh, and they have an as yet pretty empty MySpace page: http://www.myspace.com/palaceoffire