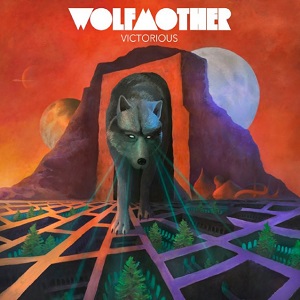 Apologies for the delay, but the lyrics for the new album Victorious are now live on Wolfmother.net!
These lyrics have been taken from the booklet included with the album, then adapted by myself while listening to the songs.
What does adapted mean? Essentially, I put them into more logical, readable paragraphs and also copied bits that are repeated. Hence, they should be 100% spot on. Enjoy!
Hey all, just a quick note to say that you might notice that I have removed the chatbox from the right-hand side of the site. This is basically because (1) it has been filled with spam and arguing for a while now and (2) I would like to encourage everyone to use the new forums (which, by the way, are now linked above in the banner). Thanks in advance for understanding and supporting.
Speaking of the site, we should hopefully be having some cosmetic changes here soon, including on the forums. New banners, a few tweaks to make it a bit shinier here and there; nothing too drastic, but some much-needed updates for sure. If you have any suggestions, please comment below!
Peace.
First up, some news from Wolfmother.net, the original Wolfmother fan site: we have a brand new biography of Wolfmother live on the site! I have been working on this for a while now, and it covers everything from the band's formation to the present day, New Crown and all, making a great one-stop shop for anyone wanting to find out about Wolfmother. Check it out here, and let us know if you see any oddities or if you just want to share your love for us by emailing wolfmothernet@gmail.com. Enjoy, and share with your friends!
Secondly, there is some big show news coming from the Wolfmother camp soon! Andrew Stockdale himself has given us the heads up, but we're going to hold off confirming what this is just yet, you know, just in case. For now, all we will say is that if you live in the UK, you should be ready to rock in the first or second week of July… so get ready! The news is likely to leak very soon, so as soon as that happens we will confirm what we know.
Edit literally seconds after posting…
Okay, screw it – a bunch of people already know this is happening, and Andrew was happy for us to share the Wolfmother element of the news now, so…
Wolfmother will be supporting Black Sabbath at this year's British Summer Time Festival in Hyde Park, London! The Sabbath news has been hinted at and rumoured over the last few days, and is set to be confirmed tomorrow anyway, but Andrew has also revealed that Wolfmother will be performing at the event as well. The specific date is not confirmed yet, but once it is be sure to get your ticket fast!
Unfortunately the forum continues to be down. It is proving to be much more difficult than hoped to restore the forums to their former glory – though those of you who have contributed content should not be too concerned because the database is backed up.
As I am going to be overseas for the next month, the fix will alas wait until I return.
In the meantime feel free to chat to the right in the chatbox, or on the Facebook page.
Sorry everyone, pain the arse I know.
Some low life scum hacked the site … took some doing but I finally managed to get it back online.
Hope you didn't miss us too much?
Apologies for the downtime the last couple of days – one of these years I'll remember to renew the domain on time.
The Original Wolfmother Fan Site is finally on Facebook! The page has only just been kicked off, so it's pretty bare at the moment, but once the fans start flocking in we'll start posting updates as often as possible to keep you fully informed and entertained regarding all things Wolfmother!
Make sure you 'like' the page, tell your friends, and post on the page telling us why you love Wolfmother so much. Look out in the next few weeks/months/years for exclusive news, competitions, views, and other cool stuff!
Click here to like the page!
Well, just like Wally (or Waldo as some of you seem to call him for inexplicable reasons), wm.net has been found safe and well and is back online. So wtf happened? Well, simple stupidity really! I was away for business this week and hadn't had chance to check my emails or the site. So imagine my horror when I logged on about an hour ago to find the site gone! I expect some of you had a similar reaction, though perhaps to a lesser extent. I immediately checked the domain registration and found it had expired. Domain registrars mail you so often with reminders about domain renewals, there's really no excuse for forgetting – though you also get so many it's easy not to take the notice of them that you should. So yes, the domain expired – but thankfully I was in time to reactivate it, which I just did, and as you can see things are back online already.
I promise it won't happen again and apologies for any inconvenience!
I've personally had a Twitter account for some time now (though I admit that I'm not a huge user). I figured it was time for this site to come into the Twitter age and get a few updates:
Easy 'retweet' links added to each post
A wolfmother.net Twitter account which will have updates from this site but also breaking news about Wolfmother
Added a sidebar flash widget that displays the latest updates. Likely to be updated before this site is so keep a close eye on it! Flash widget was too much of a pain in the arse – added a widget to show posts from @wolfmothernet, @positron76 (Andrew), or any post that mentions Wolfmother. Hope it works better!
Click on the icon below to follow, or go to twitter.com/wolfmothernet

So I've been thinking a lot recently about the neglect I show this site. It's the one and only (reputable) Wolfmother fan site, who I love and admire, and yet I barely find the time to keep it updated. Classic example, Clipsal, the first official Wolfmother full gig in forever, and what have I said about it? Naff all!
After berating myself for being lazy, having too much else going on in my head, wondering if I should just sell the site to someone who would do a better job … I realised the issue. Those damned thumbnails on the old homepage design were a pain point that prevented me from taking the time to type a message. I type fairly fast so it's not that part – it was simply finding the pictures, resizing and cropping them to the appropriate size, uploading them to the site, adding the links to the WordPress fields to update them … all probably adding 20 minutes per post. Which probably sounds ridiculous, but was enough to make me put it off. And I am the world's worst procrastinator.
So instead, I have changed the site format to display like a normal blog. It might not be as pretty, it doesn't have the sexy thumbnail images, the pictures, the video … but I guarantee that it's a shit load easier to update. This post took me about 3 minutes to write – and if I want to add an image, I just do so easily and quickly.
So the rambling aside, please let me know what you think of this layout and whether you'd rather have more regular updates. I in turn promise to try and make more time to post updates as and when I get them.
Thanks.