February 25, 2016 by Andre
Last night (February 24th), Wolfmother kicked off the opening North American leg of their Gypsy Caravan Tour at First Avenue in Minneapolis, Minnesota.
The tour, organised in promotion of the band's latest album Victorious, will visit 24 venues in the United States and Canada between now and April 1st, before moving on to Europe for a 28-show stint starting on April 8th.
Teaming up with new touring drummer Alex Carapetis, the trio played a set featuring old classics and new hits in front of a sold out crowd. Check out the full setlist below and a few photos and videos from the show on Instagram here.
"Victorious"
"New Moon Rising"
"Woman"
"Apple Tree"
"The Love That You Give"
"White Unicorn"
"California Queen"
"How Many Times"
"Gypsy Caravan"
"Dimension"
"The Simple Life"
"Mind's Eye"
"Colossal"
"Vagabond"
"Joker & the Thief"
February 24, 2016 by Andre
Wolfmother's new album is on track for chart success in the UK. According to the latest Official Albums Chart Update, Victorious is currently the 17th highest-selling album in the country since last Friday, 19th February.
As well as beating out competition from new releases by bands such as Simple Plan and Animal Collective, the ranking is also the highest Wolfmother have achieved in the UK, topping Wolfmother (#25) and Cosmic Egg (#35).
The full chart is published this Friday, 26th February, but at this point it is safe to say that Wolfmother will have a new UK chart record with their latest release. This trend is expected to be replicated in several regions across the world, based on positive iTunes chart updates throughout the week. Check back for more updates on Friday!
Meanwhile, lead single 'Victorious' is now at #31 on the Billboard Mainstream Rock chart!
February 12, 2016 by Andre
Last night (Thursday 11th February), Wolfmother performed at the recording of an upcoming episode of American late-night talk show Jimmy Kimmel Live! in promotion of upcoming album Victorious.
The show, which took place in Hollywood, California, featured Alex Carapetis (of Julian Casablancas + The Voidz and more) returning on drums. Carapetis has previously filled in for rehearsal sessions with the band, and will remain for upcoming Gypsy Caravan Tour dates (in at least the US).
The setlist was a mix of new and old, featuring 'Victorious', 'The Love That You Give', 'Woman', 'New Moon Rising' and 'Joker & the Thief'. The show will be broadcast on Wednesday 24th February (the opening day of the Gypsy Caravan Tour), but for now you can watch a couple of videos below.
February 12, 2016 by Andre
British rock magazine Kerrang! is running a competition in which you have the chance to win the incredible spaceship-themed guitar featured in Wolfmother's 'Victorious' music video released last month.
In their words, "All you have to do is head on over to Twitter, post a rad picture of yourself with a rockstar, some fancy artwork or anything band related with the #Kommunity hashtag" for the chance to win the unique instrument.
Click here for full details of the contest.
February 11, 2016 by Andre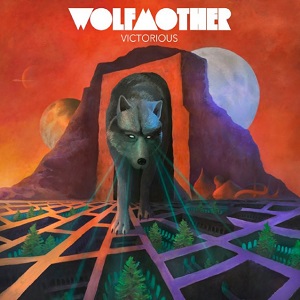 More than a week ahead of its official release, Wolfmother's new album Victorious can now be heard over on the National Public Radio (NPR) website.
Praising the band for producing "arena-rock designed to contain everything that inspires it", NPR have made all ten tracks from the album available for free listening, giving fans their first exposure to six previously unreleased songs.
What do you think of the new album?